The Volvo Concept Wheel Loader ZEUX – a digital prototype for a real-world autonomous construction machine – has won a coveted Gold Award in the Professional Concept discipline at the global iF Design Awards on Friday (March 15th). The revolutionary concept swept the jurors away as an exciting demonstration of how driverless machines can be made safer in the future.
One of a handful of gold trophy winners, the concept was picked from thousands of entries placing it among the best of the best in the design world. Born from a fully-functioning LEGO® Technic play set created by multi-disciplinary teams from LEGO® Technic and Volvo CE, it has been hailed as a realistic next step in the exciting evolution of construction machines.
The gold award puts the Scandinavian brands in the same esteemed company as Ferrari, BMW, Apple and Samsung. A judging panel of 67 independent design experts stated: "This is more than a toy construction play set with a drone for young talents who want to improve their technical skills. Volvo and LEGO teams have combined their professional experience to create a constructive concept for future engineers. What a great way to get the next generation interested in complex thinking while playing!"
Showcasing clever innovations, such as a roaming Eye camera boom and mapping drone – features that came to life following feedback from a focus group of children – the ergonomic wheel loader has been designed to bring a more human aspect to AI-driven vehicles. And not only did the extensive brainstorm result in a toy set released last August, but it has also led to a number of potentially revolutionary patents.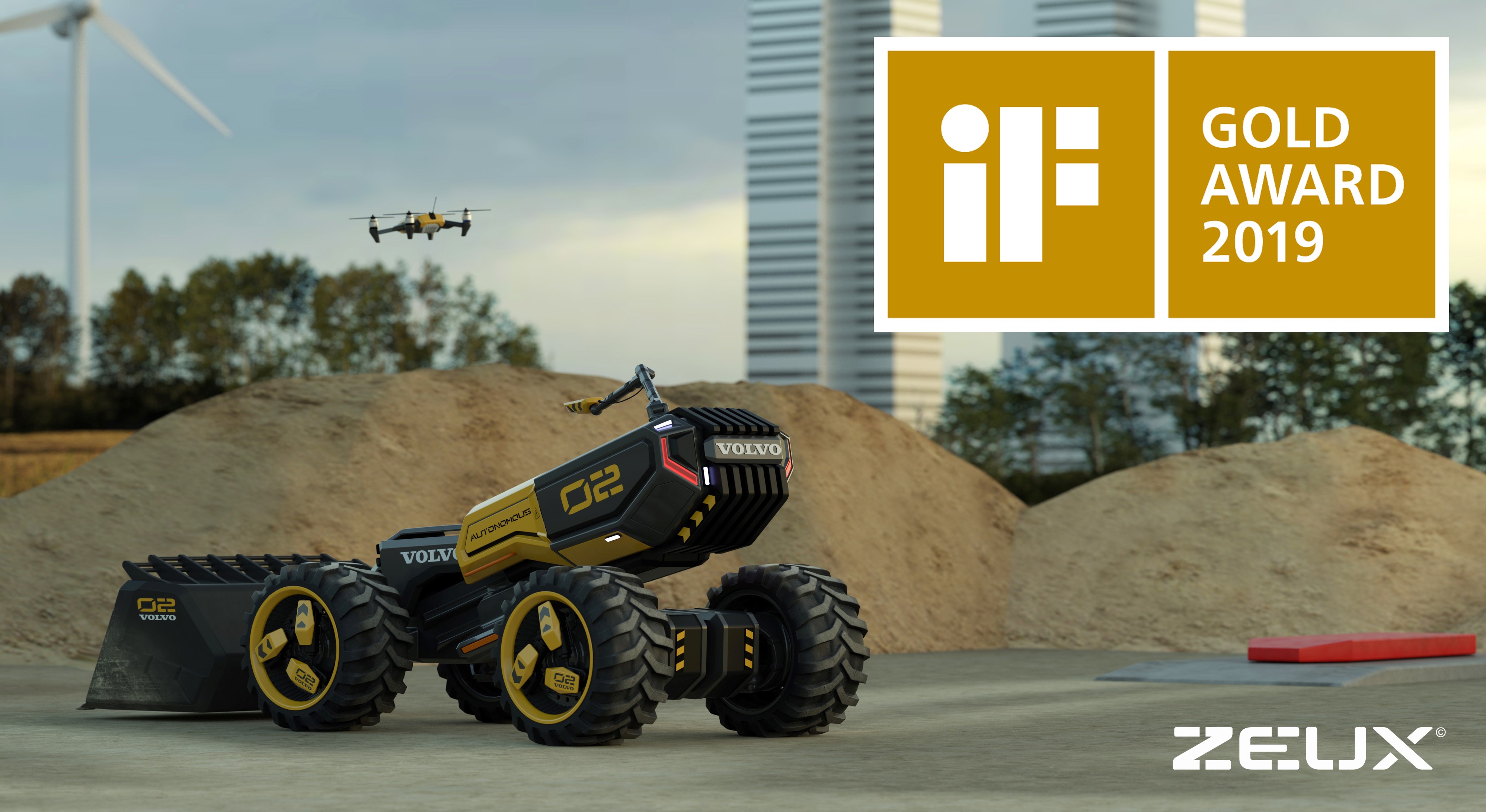 Picking up the award at the BMW Welt in Munich, Germany, in front of 2,000 guests, Mats Bredborg, Head of Brand & Market Communication at Volvo CE, says: "This award is a crowning accomplishment on what has been a truly enjoyable partnership with LEGO® Technic. We set out to test ideas for the construction machines of the future and now, not only do we have a blueprint for machine automation, but we are celebrating this innovation on a world stage."
Volvo CE Design Director Gustavo Guerra adds: "Our Volvo CE Design team has once again demonstrated great vision and passion to keep driving our brand and design ideas forward. We are proud of this milestone, and although this is our first iF Gold Award, we will continue to push the boundaries to make sure it is not the last."
Niels Henrik Horsted, Marketing Director at LEGO® Technic, says the award is yet another sign of the strong collaboration that exists between Volvo CE and the LEGO® Group. He comments: "We've enjoyed a very close working relationship with the team at Volvo Construction Equipment over the last few years and have created some really great LEGO® Technic models together. We are extremely proud to have played a part in this Design Award. It is well deserved."
The iF Design Awards are now in their 66th year and hold the enviable position of being the oldest and most celebrated design competitions in the world, welcoming more than 5,000 submissions each year from over 70 countries. Volvo CE's winning entry will be presented in the 'Design Excellence' section of the iF World Design Guide, the world's largest design portal, and will also be displayed at the iF design exhibition in Hamburg this Spring.

Image 1: The Volvo CE team with the iF Design gold award (from left) Joakim Unnebäck, Mats Bredborg, Gustavo Guerra and Arvid Rinaldo.
Image 2: The winning Volvo Concept Wheel Loader Zeux.